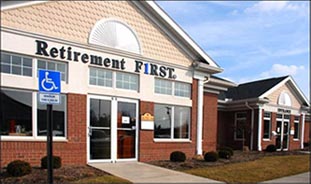 "The fear of dying has been replaced by fear of living too long."  This is a statement you will hear John speaking of quite frequently.  In fact, addressing this key issue is the foundation in which his business was built.
He began in 1987 by studying all of the issues people face when planning for retirement.  He also studied he government programs, the legal questions and investment issues. Then he held his first retirement seminar.  It was attended by eighty-five people.  Of that group, thirty-seven made appointments for him to look over their plans.  Of those thirty-seven, thirty-three became his clients.  He has never looked back.  To this day the retirement seminars, along with referrals, are the driving force behind the growth of his business.
In October 2005, Retirement First moved into its new location.  John likes to call it a Retirement Center.  Actually, he teases that he wanted to call it the "Mom and Pop Retirement Shop," but his wife and business manager, Tina Zidan, would not agree.  The new location is nothing like what you might expect a financial planning center to be.  It feels like you are entering a warm, comfortable and very plush home.  There are comfortable sofas and chairs as well as a café.  John believes that everyone coming in should be able to enjoy the kind of hospitality they would receive at a friend's home. 
During the seminars he holds, generally on the second Tuesday of each month, his goal is to inform attendees how to reduce or eliminate tax on their social security income, how to decide if they can truly retire and how to avoid costly trusts.  "People work hard for their money.  They need someone to teach them how to be in control of it.  They shouldn't have to see their life savings be controlled by the whims of the stock market.  They need to be protected from the decisions of others that impact their retirement lifestyle," John adds.  At no time is anything ever sold at a workshop.
His seminars are now held on site in the beautiful seminar room, and each seminar includes a gourmet dinner.  Existing clients and prospective clients get the same treatment when they come in for an appointment.   Johns feels that this kind of hospitality conveys the kind of relationship he hopes to have with a client during the long term.